Local Limelight: Addie Caster
Addie Caster is a young crusher from way back. How far back you ask? All the way back to the Maine Rock Gym days. This little spitfire can climb with the best of them, and laugh off any failure or fall. If you've climbed at Maine Rock Gym, or you frequent Evo Portland, than you have probably seen her smashing problems you wish you could do with a stuffed turtle chalk bag swinging behind her. I finally had a chance to peel her off the wall and talk to her about her love for climbing, family, and her plans for the olympics.
So Addy, How old were you when you started climbing?
I felt like once I started I didn't want to stop. It was just so much fun. I just got back from a back injury so it stretched out my back. I feel like it was the perfect sport for me.
Woah! Back injury at six?! What happened?
I used to do gymnastics and my coaches pushed me really hard. I went to my doctor and he said I had a fractured vertebrae, so I quit gymnastics.
That's pretty gnarly. How old are you now?
Who was it that really inspired you to climb?
It's kinda hard to say. My dad (Ryan Caster) said, 'Well its not just good for your back…it's also really fun!' Once I started the first climb I ever did I made it half way up the wall and looked down at my dad and said, 'This is awesome!' Each gym I've been to I've met someone who has pushed me harder.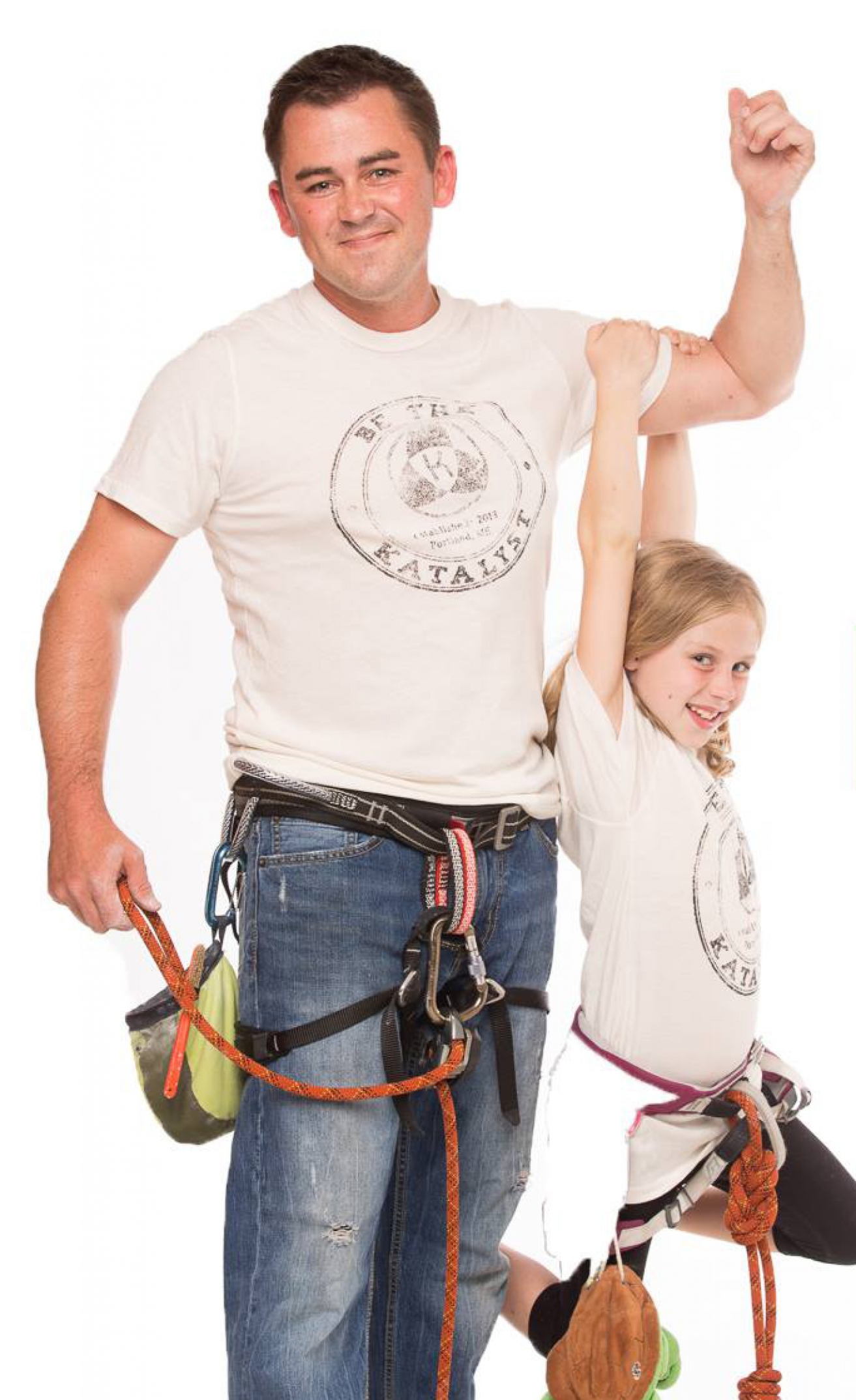 What's your favorite part about climbing?
It's not about the climbing. It's the climbing community. Everyone is so nice and if you fall they will help you if they have done the climb before. Even if you fall they still cheer you on. It's amazing.
Have you climbed outside?
Yes I have. In fact I just went to Rumney, NH with my friend and it was her first time climbing outside.
What did you climb there?
I onsighted a 5.10d called Waimea.
Which one do you like better: Climbing inside, or outside?
I like climbing in a gym because I feel like it is safer. But I like both for different reasons. Outdoors you get to make your own holds, you don't have to follow the exact route. I definitely like indoor climbing more, but I like top roping outside a lot. I don't like bouldering outside because it is very risky to me. If you fall you could hit yourself on a rock. Indoors there is still a chance to get hurt, but its less likely to happen.
I've seen you with your signature turtle chalk bag. What's the story?
I still have it, but I don't use it. I got it from somebody I didn't even know. She told me she had a turtle chalk bag, and I asked if I could have it. I had to keep reminding her to bring it it. I named it (the chalk bag) Sasha after Sasha Digiulian.
Can you tell me a funny climbing story?
Well, whenever I fall I laugh. Because I know if I keep trying hard I might just get it. There's also another memory from when I went to Pawtuckaway with team. We saw some kind of dead animal that looked like it was eaten. We thought it was a squirrel.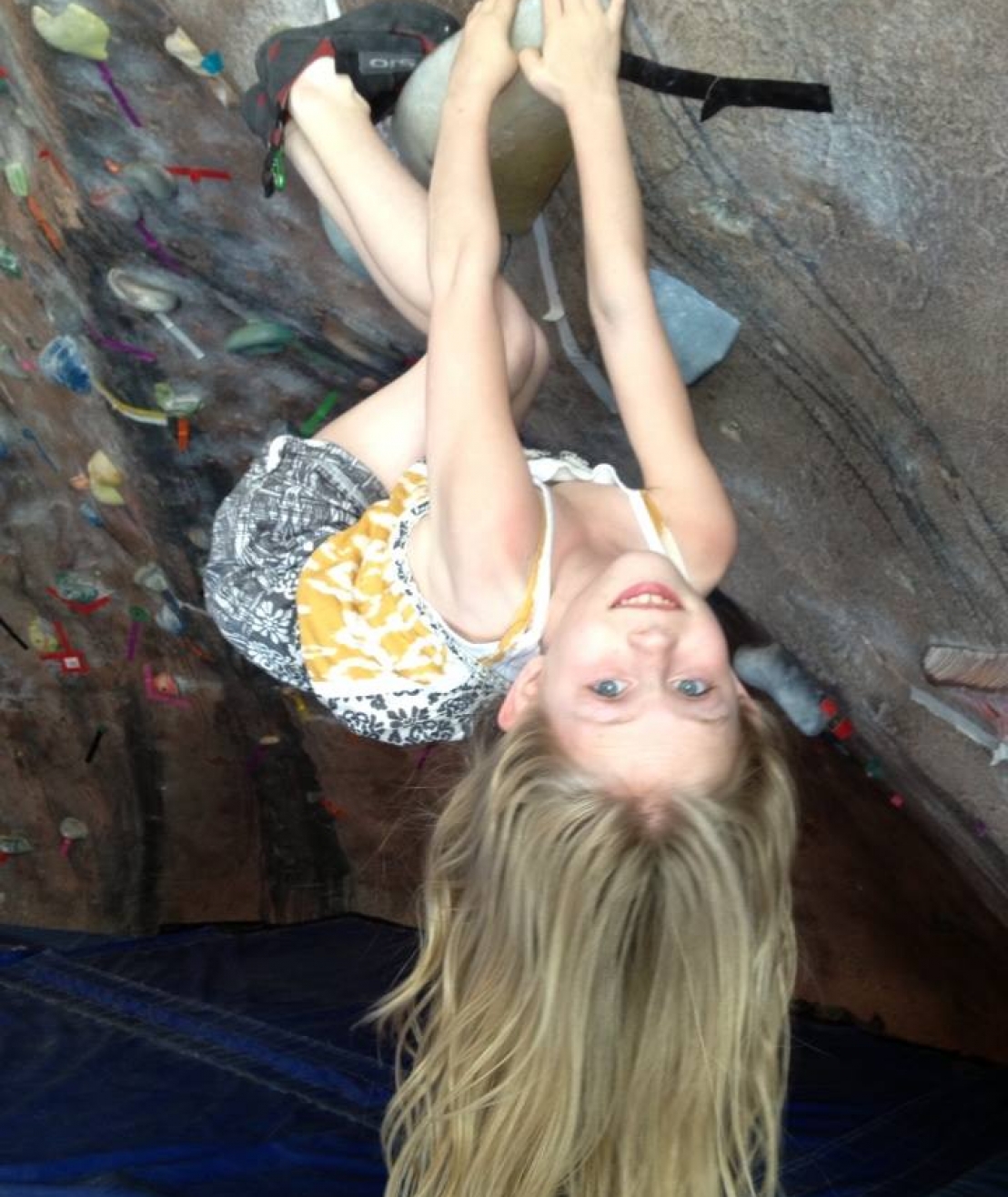 Who is your best friend in the gym?
Can I list a couple? Everyone on the team is my friend! It's kinda hard to pick just a few. So many people are nice and funny. There's also someone from Maine Rock Gym named Gwendalyn my Dad and I like to call her 'Gwendylinoviere'. My Dad starting calling her that and then it kinda just stuck.
I know you are part of team, but are you a part of any other clubs/groups?
No. But I am thinking of starting to do Yoga.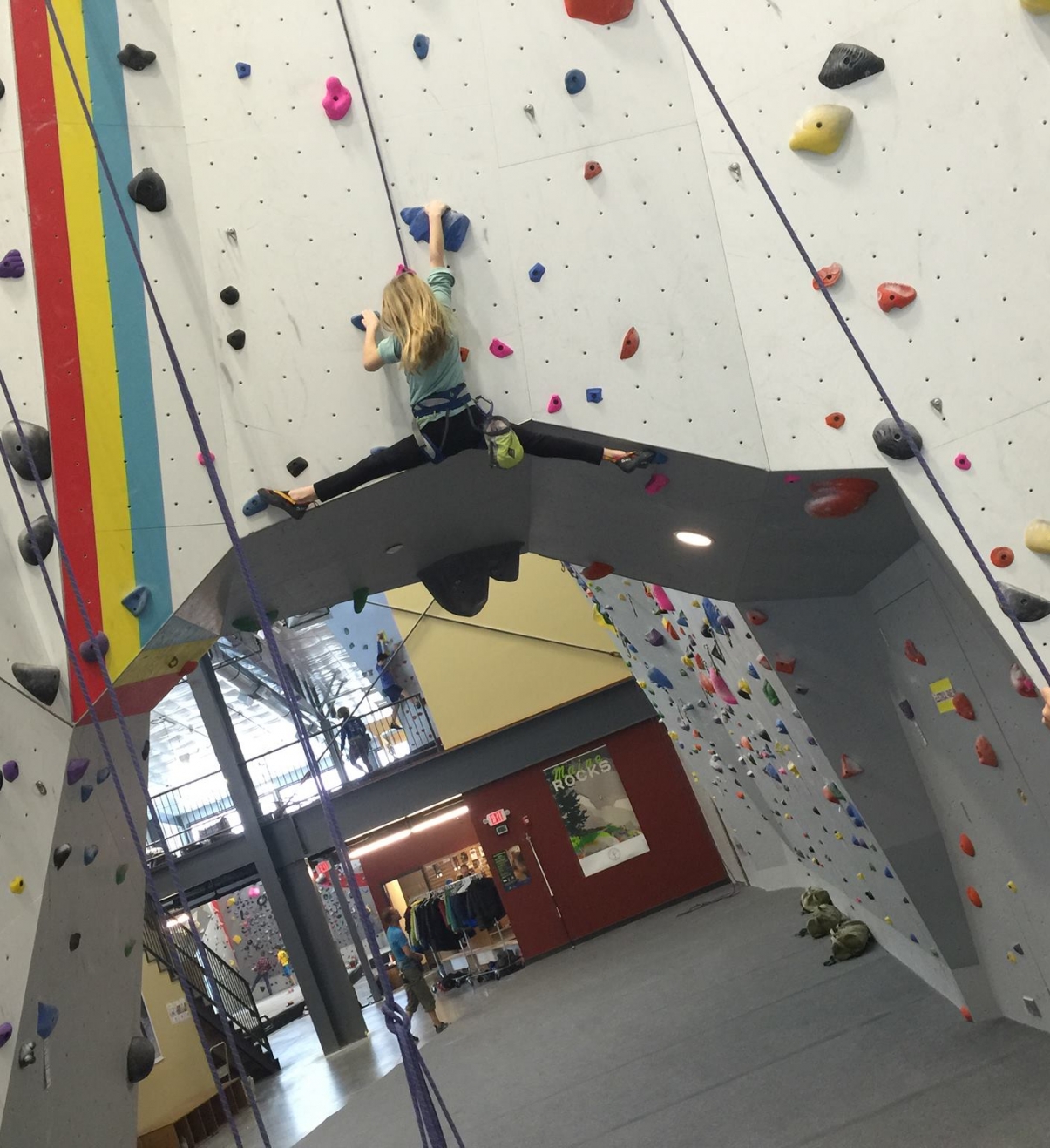 How has your dad supported your climbing?
He's supported me in all kinds of different ways. He supports me by coming to my competitions and cheering me on. He's always been my biggest fan. And this year for my birthday he gave me a new pair of climbing shoes. But it was very special how he gave them to me.
He came into the bouldering area where I was with a gift bag in his hands. Everyone else was in the boulder area, and he asked me to come over to try something on. When I starting opening it and saw them I jumped up and gave him a big hug.
That's adorable. Do you think you'll always be a climber?
I really hope so, because I love climbing
What is the best route you've climbed, or the most memorable?
I have three. One of them was the first time I ever finished a 5.12. The second one was at Maine Rock Gym. I had been working so hard to get this one dyno and on the last day it was up my Dad said it would be the last time I would see the climb. So he kept cheering me on to get it. So I tried one more time with my eyes shut and it felt like my hands landed on something and then I saw I had stuck the dyno. I didn't finish the rest, but it was amazing how you can keep trying something and finally get it. My third favorite is when I went to Rumney, NH on my birthday and sent 'Waimea' without any falls.
Climbing is an Olympic sport now. Think you'll go for the gold when you're older?
I will try if I somehow manage to get into it. I certainly want to.
She is definitely very strong. Which one is your favorite?
I can't really pick one. All of them are so great, and strong, and technical.
Fair enough. If you could climb anywhere in the world where would it be?
Hueco Tanks. I definitely want to climb Hueco Tanks. I've always wanted to climb there ever since I saw a video about people climbing there. The rock is so amazingly formed.
What is your favorite thing to do besides climb?
I love school. Which is surprising to a bunch of other kids. I don't really do anything other than climb after school. I really like the nights where you just chill with your family and watch T.V.
Wanna say anything to the other aspiring young crushers out there?
I want them to keep trying. If they feel like they are gonna fail don't think what your brain tells you to think, think about what your heart tells you to think. You should never give up on problems. If you fall just get up and try again.
Keep thinking about what your heart says, Addie.