Local Limelight (Portland): Kendra "Lay's" Jackson
On March 4, 2016, Kendra Jackson and (now) fiancé Tyson Perkins set out to thru-hike the Appalachian Trail (commonly referred to as the AT).  On August 15, 2016,  just a little over one month ago, they returned.  Jackson will start full-time at Hyperlite Mountain Gear in three weeks, but reintegrating into "normal" society has been a whole new challenge, as the next chapter of her life unfolds.  This interview doesn't delve deep into gear-specifics or preparation tactics; rather it focuses on what the culture of the Trail was like, how Jackson came to see the outdoors as her home, and what emotions are felt upon returning.
So Kendra! You you've been back a little over a month.  I don't even know where to start…how many states did you hike through?
14 states, 2,189.1 miles.
Holy walkabout.
Yeah we probably did even more than that; just because of all the little side trails.  Sometimes it was 0.2 miles to water, then 0.2 miles back to the trail.  So much of your day is for water.
Were your water sources essentially streams?
Yeah, we used the Sawyer Squeeze.  It's a really simple filtration system; you fill up the water in a bag, squeeze it through the system, and into your (in our case) Platypus. But water was really scarce in some parts. If it hadn't been for Trail Angels leaving caches of water at trail crossings we would've been in trouble.  All the reliable sources we read about in David "AWOL" Miller's AT Guide were dry.
Why is that?
We think it was an El Niño year.  In a way we were lucky, because we barely got rained on, so we were thinking, "yay no rain!" and then then we realized, "oh no…no rain."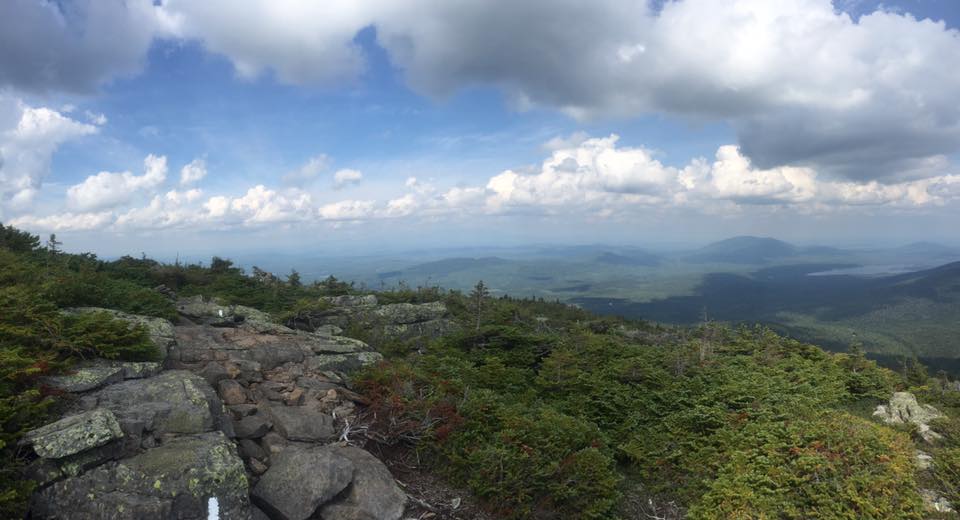 Trail Angels…Who are they? What are they?
Trail Angels are civilians—we actually called them Muggles, (Harry Potter reference), who understood the Trail community, whether they were a former thru-hiker themselves, or just wanted to give and do good deeds.  As the saying goes, 'Trail Angels do trail magic.'
What gems.  I love it. What else did they do for hikers?
They might bring food, leave food, even come cook us burgers.  Sometimes we'd come to a crossing and find a cooler of ice-cold soda.  That might seem small, but it seriously made our day…especially when it was hot. They let hikers stay at their house, too.

One day we were walking down the road and a guy yelled to us to come over.  There were half a dozen thru-hikers chilling on his porch.  He had a BBQ going and said "we're all going swimming!"  We had soda, beer, watched movies, and crashed in our sleeping bags in his attic.
So there's a whole subculture going on here. 
YES. It is such an amazing culture. I think the AT, more than any other long distance trail in the world, has some of the best community.
How long did it take you guys to adjust to being on the Trail?
Tyson and I had practiced backpacking two years prior in the White Mountains, but after that first four days it definitely felt like something was off.  That was usually when we would be waking up to go to work…and we weren't.. not only that, but we were out there for five more months. Within the first week we came to terms with "omg we're actually doing this." It hits you like a brick almost. But we loved it.  Never once did we think about quitting.
Did you witness a lot of people giving up?
Yes.  A lot of them were in the first two or three weeks which is pretty typical. There's an AT statistic that says only one in four people actually finish who set out to do so.  It's totally commendable to try something you know is out of your comfort zone.  For Tyson and I, it was really never a question of 'if' we made it to Katahdin, just 'when.'
Did you see all walks of life making the trek?
Definitely people of all different physical abilities. Our friend Ron Jon weighed almost 280 pounds, was 42 years old, and a retired Navy Seal. He beat us to Katahdin by two weeks. He dropped at least 80 or 90 pounds.  He looked great by the end.

And there was another guy named Tinker, he was 80-something years old out on the Trail, doing the whole thing, and always had such a positive attitude. I think that was the biggest thing— always trying to have a positive attitude.  Your day is never going to get better if you're sulking.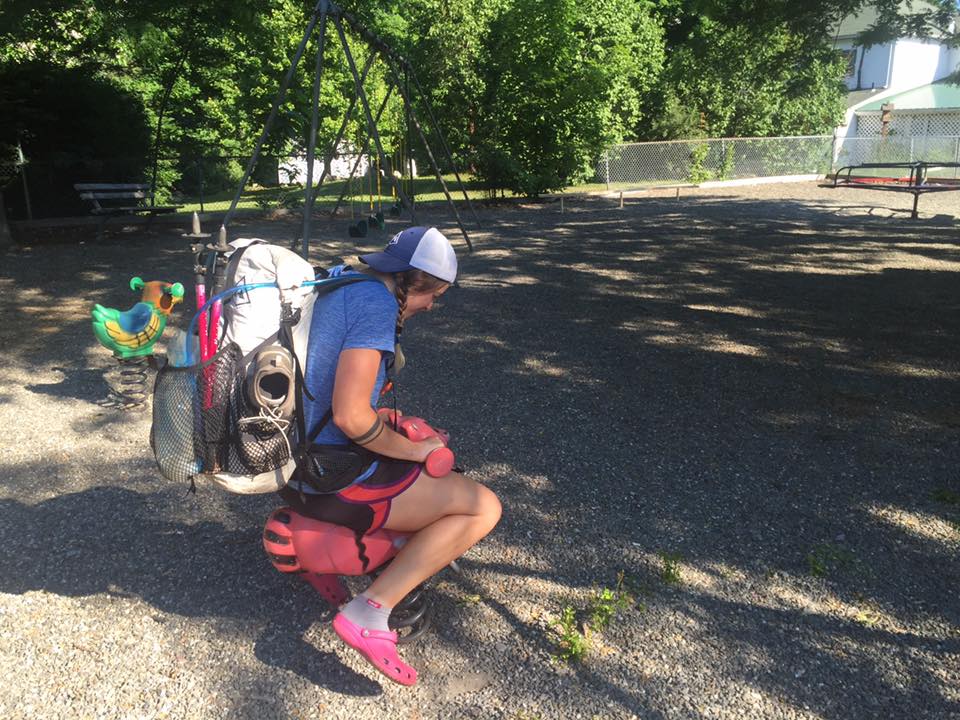 Lol "Tinker."  How are Trail names decided?
They happen pretty early on in your Trail journey and I don't know how it started as a tradition…I think it's a fun way to disconnect from your real-world-self. It feels like you get to be a different person out on the Trail. The names come based on a personality trait, something you say, or a quirk you have.
Tyson was Tenderfoot, right? And you were Lay's?  What's the story behind them?
Tyson was Tenderfoot because he never got blisters! I still hate him for it.  His mom is part Native American so I think he has really soft, durable feet.  And I became Lay's like the potato chips, because there was one night I was talking a LOT about potato chips.
Who else was in your Trail family?
Trail families happen very organically…When you do travel with a group of people for a long period of time you call them a Bubble.  You're part of a few different Bubbles along the Trail. The most tight-knit one we had was with Scuba, Bubbles, and Ass Captain.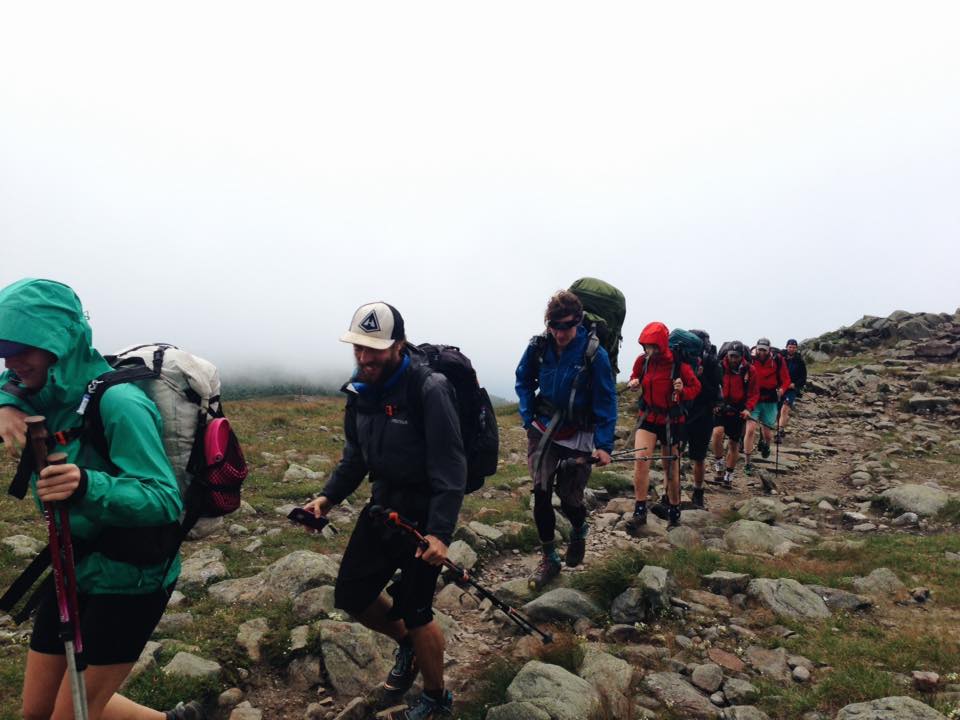 (Big laugh.)  Okay I won't ask how Ass Captain got his name. How much did you miss rock climbing?
TONS.  Tyson and I covered literally every topic you could ever think of throughout the hike, and I think rock climbing came up every single day. We actually got to go climb at an indoor gym called Climbnasium in Mechanicsburg, PA. It was two miles from the Trail and it had been pouring rain that day. We were soaking wet. We get to this road crossing, we stick our thumbs out to hitch, and this couple pulls over and asks us where we want to go, thinking we would want food or hotel. Instead we asked, 'can you take us to the climbing gym two miles up the road?' And they were so confused.

When we got to the gym we asked the guy working there 'we're thru hikers, can we climb for a few hours and get out of the rain?' and he was so ecstatic. He told us we could use the showers and it was so cool. That was kind of our one climbing stint. We missed it a lot—enough to hike 10 miles in the rain and then climb for three hours.
Dude that's amazing.  You must have so many cool stories.
Oh yeah. Each story could a separate blog post in itself.
Ohhh tell me another one real quick?
Well we spent three days in a religious cult that doubles as a hiker hostel in Vermont!  They nurse hikers back to health and put them on their way. It gave us an entirely new view of something so different than what we consider normal. It was 100% their regular society; they worked everyday except for their Sabbath, and then they sleep.
Wowzer. Was was the biggest hurdle you and Tyson had to overcome?
In the beginning the injuries were our biggest worry. I had really bad knee problem, Tyson had an achilles problem. Your body has never felt this before. It kind of throws you into a panic, 'what are the consequences of doing this to my body?'  You ask yourself. 'Did I prepare for this?'  Thru-hiking is a sport in it of itself.
I bet. Were you and Tyson rainbows and butterflies the whole time?
(Laughs) Definitely rainbows and butterflies. We had been friends for almost a decade before we dated—we spent our two-year anniversary on the Trail in July— and because we had backpacked before we knew what we were up against. We worked really well as a team. It was awesome being able to talk everything out with each other.  There were one or two days where you just get tired and frustrated, and without meaning to, took it out on the other person.  We were both good enough to realize when that was happening; we always apologized.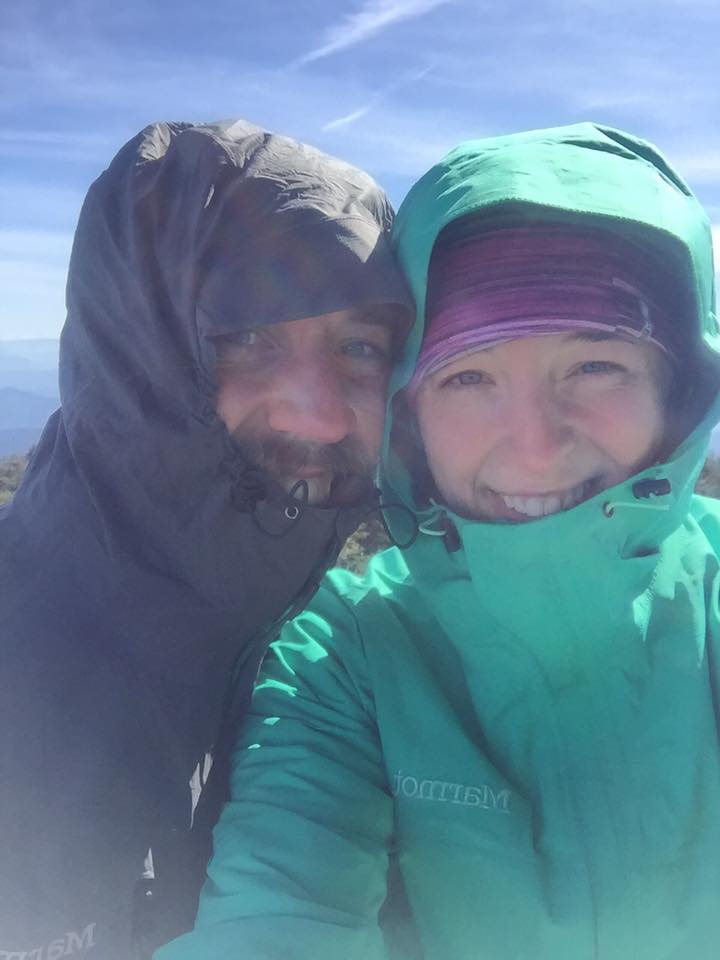 What's something you and Tyson only talk about among yourselves because you don't think anyone else will understand? (Unless they've done the AT.)
I think the biggest one is that that community is so hard to explain. We have so many crazy funny moments or inside jokes and I think those things only come from experiencing it—just being out there. And also the major fatigue feeling everyday.  It makes you really appreciate the little things.
Was there a major shift in your perspective?
Totally.  I feel like I'm totally a different person but still the same person at the same time.  I'm struggling between two worlds. The old me, who really loves work and having that office job, and the new 'AT-me,' who is very nonchalant, and has learned to let go of a lot of things—pain being one of them. It becomes just another reality and you accept it.  And social norms become so much less ingrained.
For example?
On the trail you were never in the same place twice. You never spent two nights in the same place.  Now that I'm more sedentary you see the same stuff over and over again instead of seeing different things constantly. I find myself just wanting to walk around, be outside as much as possible.

I would sit down in the dirt everyday. Everywhere became my home, my sitting place, my living room. You just sort of a claim an area whether it's a random rock or a park bench and those social norms go out the window. I would drop my spoon on the ground and lick it off, because you're in a totally different society.
That sounds like the way it should be.  Speaking of spoons, what was the most crucial piece of equipment on the Trail?
I love my pack.  I never would have done it without a different pack. Hyperlite 3400 WindRider.  It's just so light, it was perfect for what I needed it for, and it is still in incredible condition. It's so durable. All of Hyperlite's gear outperformed what I thought it would.
Ok so now that we've covered the gear (lol) let's talk about the proposal…I understand Tenderfoot popped the question upon reaching Katahdin?

(Laughter) Yes and I had no idea it was happening!!! We got to the top. It was foggy and cold.  We touched the sign, and there's this crazy wave of relief as we both reach it. Then he asks me: 'are you ready?'  And I was confused, thinking he was talking about a picture. I ask 'ready for what?' and then he got down on one knee.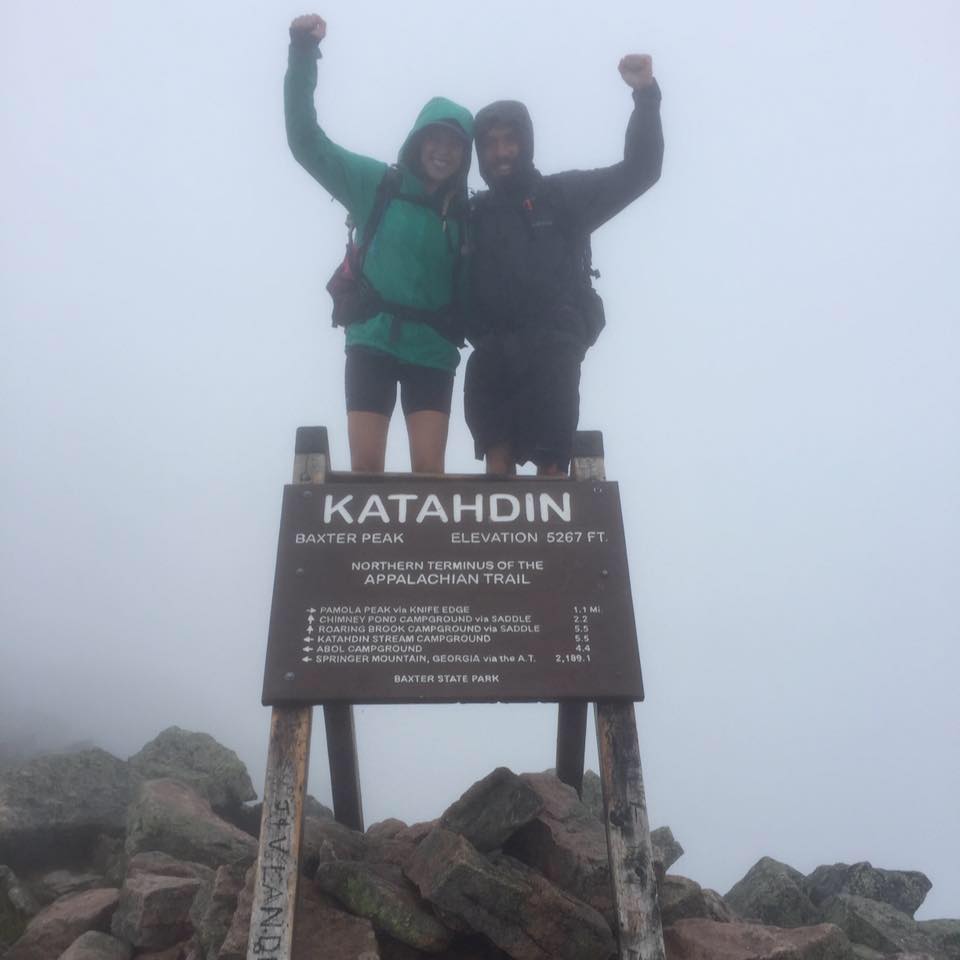 Oh my gosh get the hell out of here.  So now, onto the next adventure?
Yeah, which is going to be our careers. We want to 'triple crown' which is the AT, the Pacific Crest Trail (PCT), and the Continental Divide Trail (CDT).  We would love to do those, and we will, we want to spend some time settling ourselves, and we want to get married! We're going to invite all our hiker friends to the wedding.
Would you recommend hiking the AT to people?  I feel like this is a definite 'yes.'
I would highly recommend it to anybody.  I'd say whatever you're into, be into it. If you're someone and you just don't really have a direction, hike the AT—it will give you some sorta direction in one way or another. You will meet people, accept different lifestyles, and see other communities.

I was born and raised in Maine, and was catapulted in the southern culture and it was amazing.  I had trouble with religion when I was younger and it was hard for me to want to be religious, or be around religious people, but I encountered so many folks that had different beliefs on the Trail and people we so kind…it didn't matter what belief you had. It gave me a new perspective on acceptance of different faiths.
If only everyone could have that lesson in acceptance..that's really beautiful. I have just one more question…fill in the blank:  "If you're going to thru-hike the AT, don't forget the _________?"
Honey buns.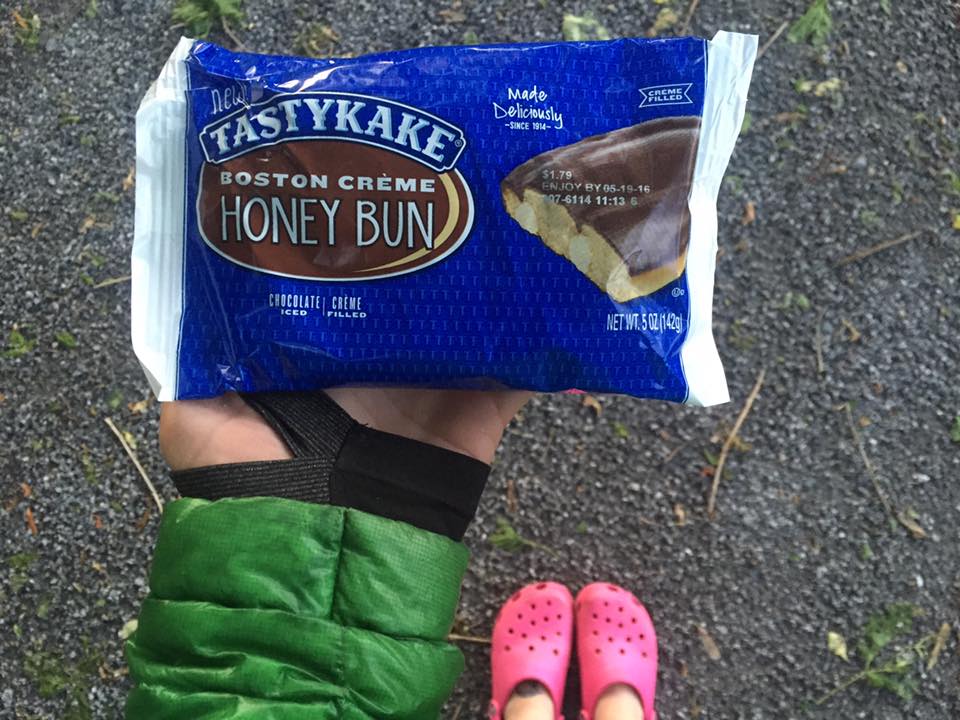 For specific planning tactics and gear deets, check out Tyson's blogging right here, which he wrote for Hyperlite Mountain Gear. For Kendra's blogging while on the trail (and more reflections to come) check out Appalachian Trails Author Archives, (an organization she used to intern for, run by Zach Davis).