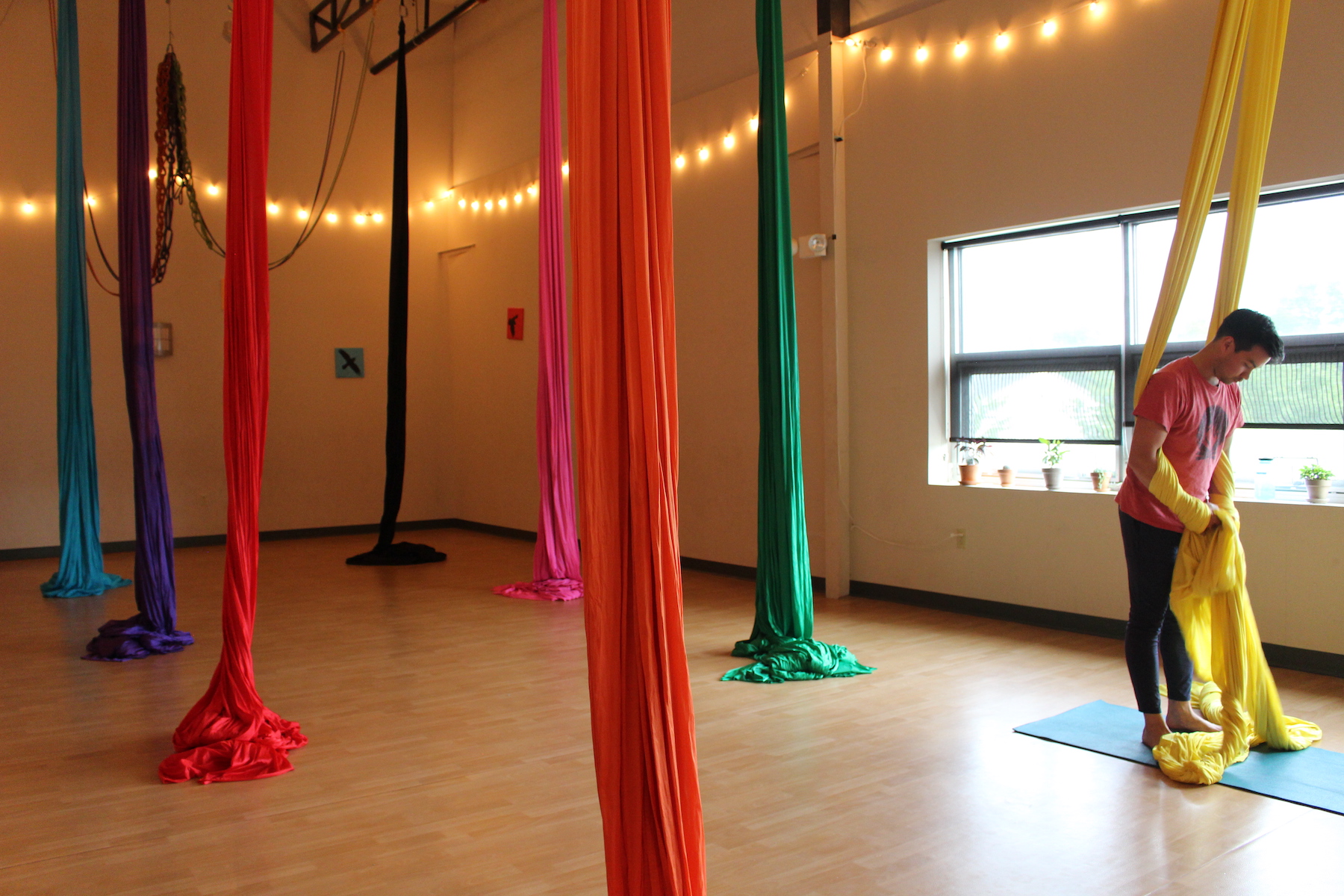 Ready for a new challenge? Looking for an exciting, whole body workout? Come try our Aerial Silks classes! We currently offer classes focused around foundational and advanced-beginner Aerial Silks skills, as well as Aerial Silks Fitness and conditioning. Class sizes are limited and often fill up early, so register online to secure your spot. Prices vary per class, but are discounted for members.
Class descriptions and sign up links are below. Check out our Instructor Bios for more information about them and feel free to contact our Aerial Arts Coordinator with any questions.
The following policies are intended for the Aerial Arts Program. These policies are in addition to policies set forth in the EVO Rock + Fitness waiver.
Student Attire
Aerial arts is a very physical activity, where the student's body will be in close contact with materials that can cause injury. Students should always wear bottoms that cover the backs of their knees and do not have zippers, buttons, or any other decorations that can snag on the fabric and cause tears. Students should wear tops that cover their entire torso and are long enough to be tucked in, if needed. Tank tops are appropriate but the instructor may inform students to bring tops that cover their underarms for certain skills.
Students will be asked to remove all removable jewelry, and may be asked to cover up non-removable jewelry with bandaids or other coverings if the class is working on skills that may put the jewelry at risk of injuring the student or tearing the fabric. Students who refuse to adhere to the attire policy assume their own risk for injuries that may occur, including but not limited to fabric burns, bruises, scrapes, blisters, or damage done to clothes, including tears, rips, holes, burns, etc.
Number of Students Per Class
All aerial classes have a "needs 2 to run" policy in order to preserve resources and respect student and instructor time. All classes have a class limit of 6 students per class. Students may sign up for the waitlist for classes that are full and will be contacted by phone or email by the instructor or EVO staff if a spot opens up.
Late Arrival
Students arriving more than 15 minutes late to class (meaning, they have missed the entire warmup) will not be permitted to participate on the apparatus in class. Students should notify the instructor or gym front desk staff if they are on their way but will be late, as extenuating circumstances will be considered on a case-by-case basis. The student is welcome to stay and observe class to take notes but will not be allowed on an apparatus. 
Students who arrive more than 15 minutes late to class will be can work with the front desk to be rebooked into a future class, but will not be issued a refund. The student can call the main gym phone number or text/call the instructor in the event they will be running late. Students are encouraged to check the gym calendar ahead of their class, as the parking lot tends to fill up early on days with Birthday Parties. Maps about parking rules are posted throughout the gym – please respect our neighbors when parking! 
Cancellation Policy 
Everyone's time is valuable and we want to respect our instructors' and students' time regarding cancellations. While cancellations are sometimes unavoidable, we adhere to the following policies regarding cancellations and no-shows.
If the instructor or EVO cancels a class for any reason, students signed up for the class will be contacted with no less than 24 hours notice and given the option of being issued a refund or booked into a future class.
Students may self-cancel up to 24 hours before the start of the class without penalty. The student can opt to get a refund to their payment method of choice, or be booked into a future class.

If a student cancels with less than 24 hours' notice or they do not show up to class, there will be no refunds or future class bookings returned.

If a student is sick or injured within the 24 hour window prior to a class they are signed up for, the student can work with the front desk staff to schedule into a future class. Email the Aerial Arts Coordinator if additional circumstances need to be considered, like longer recovery injuries or extended illnesses.
Impaired Students and Student Conduct
Students who are noticeably impaired will be asked to sit out from the class. They will not be issued a refund or future rebooking. Students are responsible for listening to and following instructions from the instructor. A student may be asked to leave and will not be issued a refund or rebooking if they refuse to adhere to safety protocols issued by the instructor, or are willingly putting others at risk. EVO Rock + Fitness reserves the right to expel any patron whose behavior is judged as overly risky or objectionable. 
Injured Students (prior to class)
Students who are experiencing an injury obtained outside of the aerial class should speak to the instructor at the beginning of class to determine appropriate action. The student may make their own decisions about what they are capable of doing during class, but if the instructor notices the student is putting themselves at risk of further injury, the instructor reserves the right to instruct the student to sit out certain skills.
Visitor Policy
Only those signed up for class are permitted to be in the aerial room during class time. Visitors who are not signed up for the class will be asked to leave the room. They may wait in the main gym until class is released.
Instructor Conduct Policy
Aerial arts is an inherently dangerous physical activity, which may require the instructor's physical intervention to prevent injuries. Instructors will also offer students physical spotting, which the students should consent to at the beginning of every class, or inform the instructor if they choose to not consent to physical spotting on any given day. Students are always allowed to revoke consent at any time, and instructors are required to conduct class and any physical interaction with respect for the students physical and psychological safety. All instructors adhere to EVO Rock + Fitness's employee code of conduct.