Rachel Higley – Aerial Yoga Instructor
Rachel Higley installed aerial silks to the ceiling of her apartment four years ago with the intention of teaching herself aerial yoga.  When she realized it is an art that requires a master, she sought private instruction, and ultimately teacher training.  Aerial yoga has become a way of life for Higley, and as an instructor, she seeks to enrich the lives of others by sharing her knowledge, skillset, and passion for the practice.
What do you love about aerial yoga?
Oh man, everything; the fact that it's an art form in itself, the fact that it makes you hyper-aware of your body, to the point where  you can almost learn to self-diagnose.  I'm not saying I'm a doctor, but I'm definitely one with myself.  You become so in tune with what your body needs.
How so?
When you start, you become healthier as a person.  I was never athletic before, but after starting this practice I quickly gained 10 pounds in muscle.  It changed my life in the way that I started taking care of myself.  I found myself hydrating more, and getting more sleep.  I even heal faster.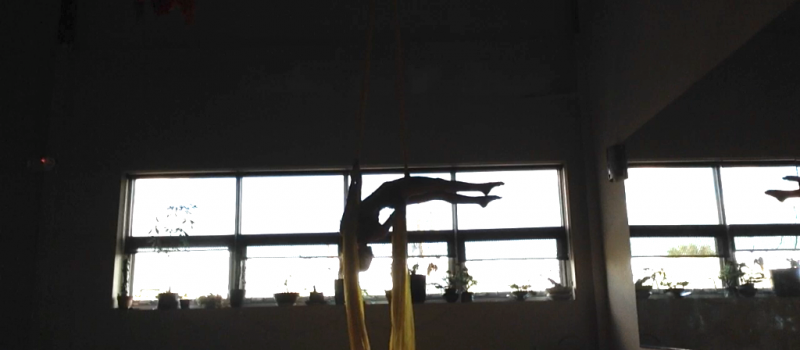 What other kinds of changes did you make?
I stopped eating junk food, for one.  And when my friends would say, "Hey, come to the bar!" I'd pass on drinking.  It's not that I was a heavy drinker, but I wanted to wake up in the morning feeling hydrated.  To do aerial yoga you have to take care of yourself…which you should do anyway, but this is a great motivator.
Can you talk me through what a class would be like?
Sure!  First we'd stretch on the floor mats, then I'd move you into a vinyasa sequence. Going through the motions helps heat your body up, which you need to do before getting on the silks. I cover all the terminology when you're on the ground, too, so that people know what I'm talking about when they're in the silks. For example "hallow body," or "cobra."
Then people move to silk and I essentially take them through the same sequence again, starting with the stretches.  It's important for people to get used to how the poses translate in air.  Next, people learn the knot, and then slowly the routine. Depending on their confidence and ability, some might start to climb the fabric.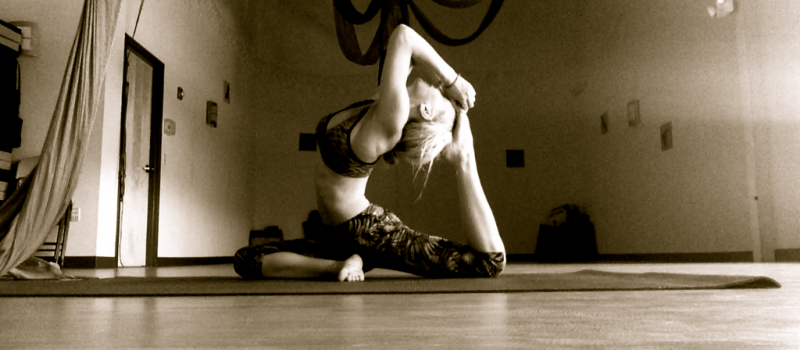 What would you say to someone who is hesitant to try this?
I've been trained in spotting and catching and holding. If someone is nervous I'll give them more stretching routines, if someone is less nervous I'll give them more motion and sequence.  And it's no problem if both types of people are in one class; but that's why we keep them small.
So you really cater to everyone's needs or abilities, huh?
Yeah! To instruct my first class I brought notes, a lesson plan, and then almost immediately threw them away.  I realized that as long as I'm prepared for anything, I don't need notes. Each class, and each individual is different.

Why else would you encourage someone to try this?

This room is great. The lighting is so natural; with the way the windows and mirrors meet up.  I don't turn the lights on unless it's nighttime.  The deal here (at EVO) is also amazing.  My lessons ranged from $50-$90 and here it's $10 for members.

What are the similarities between this and yoga?

Well, yoga keeps you able-bodied, but aerial is the next level.  It's yoga intensified.  There's a thrill, too, and instant gratification in every pose—you don't get instant gratification in many areas of life.
Anything else we should talk about regarding aerial yoga?
If you do it, your body will thank you.