// Local Limelight: Trevor Greene
This week's inspiration is brought to you by long time EVO Member, Trevor Greene!
When we are open, you can usually find Trevor up at the Tension Board. He's a friend to all, and always fun to be around – but until we can get back to hanging out again, we will just have to admire his handy work from home.
So, we know that you've been working on a home wall since quarantine started (thanks Instagram!)
What inspired you to build your home wall?
Honestly, the old systems wall at EVO was the first thing on my mind when I decided to build a home wall. After seeing a few videos on youtube as well, I knew I could do it for fairly cheap. Ethan Salvo on Instagram (Team EVOLV) created all sorts of holds using simple 2×4 lumber.
Ah, the systems wall was good to us.
Had you done anything like that before?
I am in the trade industry, so minor carpentry is in my wheelhouse. For a majority of my wooden holds, I just ran them down a table saw at 15-20 degrees. If you place the hold one way, its in-cut; flip it and you get a sloped hold!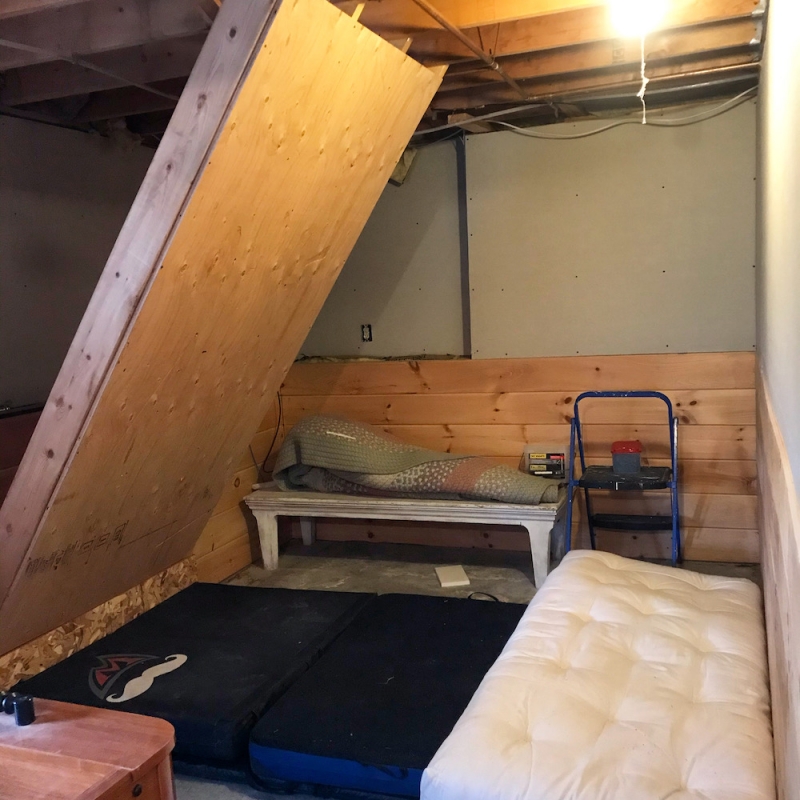 Has having a home wall helped you stay motivated to train while in quarantine?
Absolutely! I purposefully made the wall hard to use, I can't even train on it two days in a row. It is a good feeling to have sore fingers.
I also got in with Power Company Climbing so I could hold myself more accountable.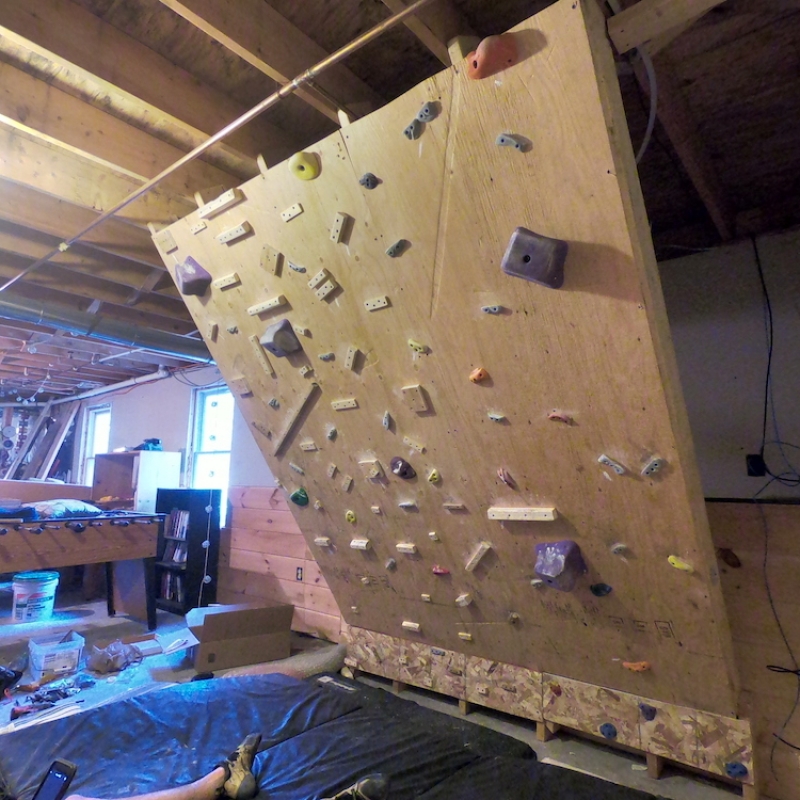 I bet! I feel like most of us are missing that sore-fingers feeling.
Have you been drawing inspiration from anyone or anything specifically?
Ethan Salvo from Team EVOLV created all sorts of holds using simple 2×4 lumber. He is 17 years old and has a real talent for making home walls!
What else have you been doing to keep busy at home?
Looking after our house plants and dog, Rukka! We all go biking to the park often! My girlfriend and I cook every day, we've been trying out this organic misfit market produce delivery service. Every two weeks we get all sorts of new different things to cook with! It's rad!!
And last but not least, what do you miss most about EVO?
I really miss the community. motivation was low at the start of quarantine without the community. When i'm at the gym, I'm on the tension board, so I dearly miss it <3
I am looking forward to seeing everyone!
Trevor has been making THE MOST out of his time at home which is so good to see!
If you have any questions regarding his build out, reach out to him via his Instagram.
If you have been considering building yourself a home-wall, we have partnered with Kilter Grips to offer the EVO community a discount on select hold sets and hangboards!
How it works: Use code COVIDEVO to receive 10% off your order, free hardware, and free shipping – This ends up equating to about 30% off! The discount is applicable if you purchase 2 or more "in-stock" hold sets and/or hangboards.
*For order questions, issues, or recommendations please email sales@kiltergrips.com.