// EVO Portland is Going Green
EVO Rock + Fitness has gone greener. Thanks to Revision Energy, EVO has been able to install solar panels to the roof. We are happy to be apart of the community of companies that are becoming more environmentally friendly.
The solar energy project was designed and installed by ReVision Energy professionals. The system is scheduled to go online in November 2017. Annually the system will be offsetting 125,507 lbs of carbon dioxide. This is equivalent to 5,640 gallons of gasoline from being consumed, that's the equivalent to the average family driving a sedan for ten years. 
EVO annual electricity usage averages about 127,525 kilowatt hours. With the array size of 108.3 KW (DC), the 361 Q-cell, 300 W panels will produce a yearly amount of 119,193 KWh. That means that this array size will offset 94% of electricity.
Talking with owner, Michael Lambert, it's easy to see how passionate EVO is when making progressive steps towards going greener.
 "It simply makes sense both financially and environmentally to head in this direction. The building uses energy, and has a big roof that will generate enough to offset that energy usage. It seems clear that we have to cut carbon emissions much quicker than society is prepared to do so. Therefore it is up to our institutions to lead the way. The government, both in state and federal government, are dragging their feet, so that leaves us in the private sector. I see it as our duty to help lead the way."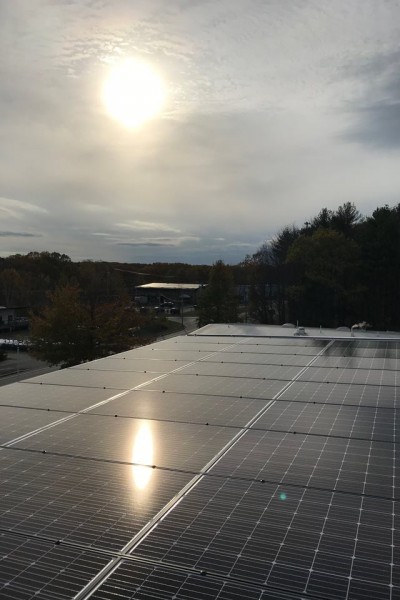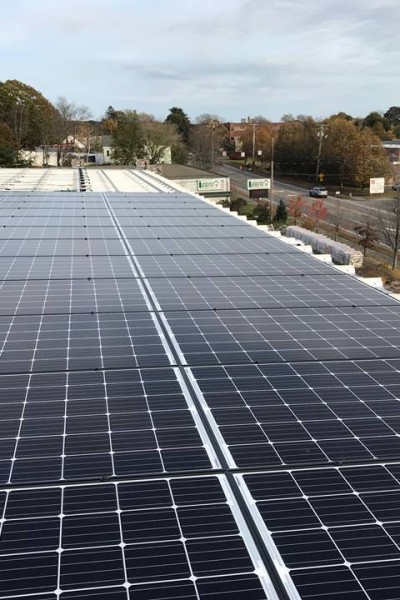 Wondering what else we do to help the environment?
EVO composts with the help of Garbage to Garden.
EVO utilizes towels instead of paper towels to help eliminate paper product waste.
EVO has a flush free urinal to reduce water waste.