// Local Limelight: SEND IT SISTER
SEND IT SISTER
I'm sure by now, most of you have heard of Send it Sister – but what does Send it Sister stand for?
Leah Heyman, Founder of Send it Sister, answered a few questions for us!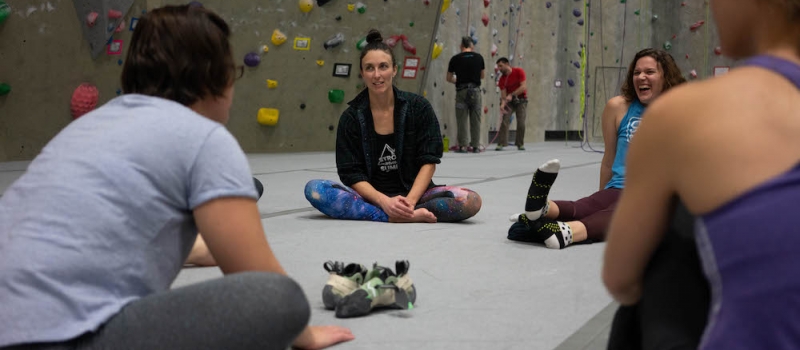 What is Send it Sister all about?
Send it Sister is an initiative. There are so many wonderful organizations out there that are supporting women in the outdoors and Send it Sister is a way to focus on women in support of one another.
What inspired you to start Send it Sister?
Send it Sister came about after a beloved female setter at EVO moved on to another wonderful job. She was the embodiment of women's support at the gym and when she left it felt like our female community crumbled a bit. Women Crush Wednesday was not really the same. I wanted to create something that would encourage connection at the gym for women, on Wednesday especially.
My friend Christine and I started thinking about terms that we could put on a sticker so women could identify other women at the gym that were open to new belaytionships. One they could trust to be supportive, inclusive, and bring stoke. We chose "Send it Sister." For me it had to do with supporting other women in a sisterhood fashion.
The stickers came out first during Strong Women's Summit. Quickly, it turned into an additional way to give confidence and show pride of connection to women doing ANY rad things outdoors. I have seen folks using it from climbing to swimming, whitewater and even parkour.
All photos from the @send_it_sister Instagram account
What is your vision for the future of Send it Sister?
Honestly, my hope for Send it Sister is that it becomes its own thing. That women who have the sticker or hear the term start reaching out and supporting their community however they see it. Being one  more supportive voice and having a positive term to use it.
Currently, we are trying to come up with a website, new logo, and images to support. We would love to see meet-up groups pop up at other gyms and doing outings. Since it's mostly just me doing the forward momentum it's been slow, but not stagnant.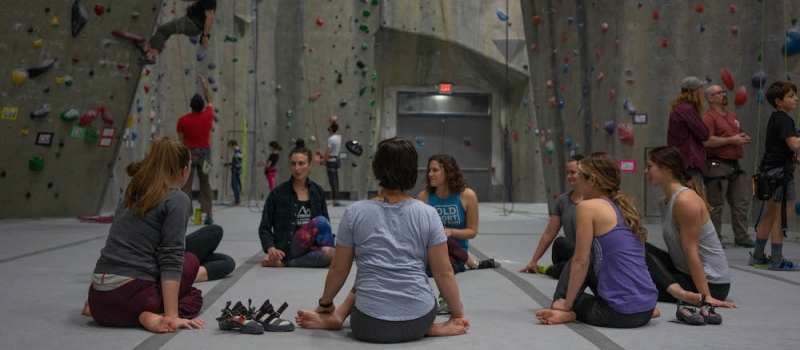 Tell us about your meet-up group/weekly stretch sesh at EVO and why you started it.
After talking with Kären (EVO's Operations Manager), I was able to create a meet-up group each Wednesday called the "Send it Sister stretch session." Since it was not a class, and climbing is about giving beta or information, this was an easy way for folks to connect before climbing. We almost always have a couple new faces in the group each week.
We start by gathering in a circle, I introduce myself and a "question of the week." I ask folks to introduce themselves as we go around the circle, present a new stretch and answer the question. The questions can be random, "what is your toothbrush color?," or they can be climbing related.
At the end of the circle we share what we are hoping to do that day and people pair off, wait for the Women's Bouldering Clinic, or go do a work out as a group. I have seen a lot of people meet up outside of the 15 minutes after joining us – it's a great way to get connected in the gym.
When I first came to the gym I did not have someone to climb ropes with and it felt really weird to boulder. I have done MANY a belay test to get folks up and off the floor (pun intended) with climbing.
Leah, Send it Sister, and the Send it Sister meet-up group has become a big part of EVO's Women Crush Wednesday movement and the female climbing community as a whole. We've seen countless women come in to climb for the first time and find friendship, support and community within the the SIS sisterhood, which is truly what it's all about. We are so grateful to have played a small role in this initiative and had the privilege of watching it grow.
You can still join the Send it Sister stretch session virtually every Wednesday night at 5:30pm on Zoom, followed by the Women's Climbing Clinic with Beatrix at 6pm!
Don't forget to follow Send It Sister on Instagram and Facebook!